We are proud to share news of another life saved
It has been reported to us that LifeVac® has saved yet another life in a UK care home. This time an 82-Year-Old male, who resides in a care home situated in London.
The male resident, who suffers from Parkinson's Disease and Dementia, came into difficulty while enjoying his lunch. Food had become lodged in his airway creating an airway obstruction.
The male resident, relies on a special molded wheelchair for daily tasks. Due to this he could not receive the abdominal thrusts. Staff acted quickly and accordingly delivering back blows. These BLS choking protocol first aid attempts failed to dislodge the food from his airway. Staff quickly grabbed their LifeVac® device and on the first PLACE – PUSH – PULL®, LifeVac® dislodged the obstruction saving his life.
The male resident was checked over by the onsite GP and made a full recovery.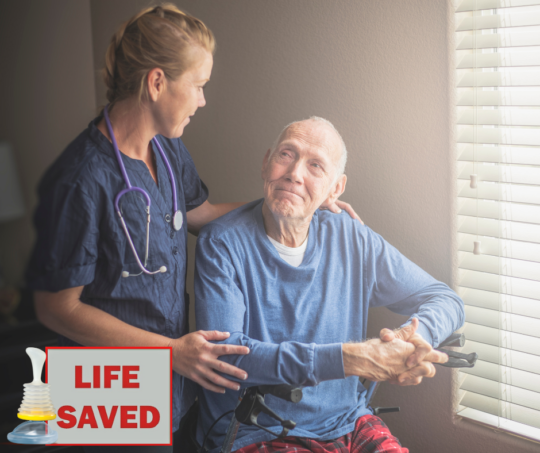 Eric Banagan, Co Founder and Managing Director – LifeVac Europe, commented: "This is brilliant news to receive! This is our first life saved within this care group since completing face to face training in May. LifeVac has now helped save 500 lives in a choking emergency! Helping reduce one of the leading causes of accidental death in adults over the age of 65 and people with learning disabilities…choking. We are proud of all the lives we have helped save when standard BLS choking protocol has failed or could not be performed. All of our lives saved show the need for change."