LifeVac's Updated Condensed Medical Folder – Publications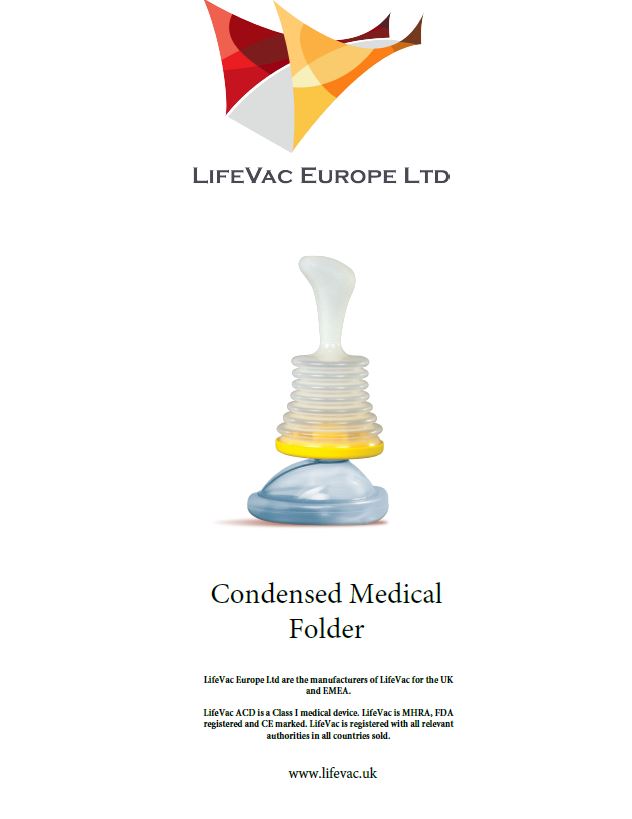 At LifeVac, we take safety and compliance very seriously, after all we wouldn't be able to register as a medical device with governing bodies and save lives in a choking emergency if we didn't
If you do a little research, you can find anything online in today's day and age. But to help you, we came up with a condensed version of our medical folder which is freely available in our drop down menu under "medical" and is also available on our "about us page".
Within this condensed medical folder are things such as peer reviewed independent publications on lives saved, independent testing, independent comparison studies that also compare ease of use, medical poster presentations and peer reviewed medical abstracts.
  Click here to view Condensed Medical Folder
This is only a snippet of what LifeVac has to adhered to, to be a medical device. We also have things such as CER, PMS and PMCF reports which are confidential folders shared with governing bodies protected under the data protection act. One of these reports contains all of LifeVac's usages whether successful or unsuccessful, in fact the report contains over 280 successful usages. This is classed as medical evidence for governing bodies who review efficacy and compliance such as FDA or MHRA for example.
Now for LifeVac to reach our long term goal of getting hand held suction devices into BLS choking protocol to raise the current 70-76% effectiveness of BLS choking protocol to as close to a 100% effective as possible, there needs to be something different, called *gold standard scientific evidence*. As this would make things such as LifeVac mandatory within first aid around the world. This evidence is hard to achieve due to the nature of choking emergencies. Time is of the essence, there isn't a doctor standing their with a video scope waiting to see if an airway obstruction is  an upper or lower airway obstruction, nor an x-ray machine. Due to human ethics, clinical trials cannot be carried out on live people with devices such as LifeVac.
The only way to achieve *gold standard scientific evidence* is to research lives that have been saved. Suction devices are used on a daily basis around the world to help clear obstructions of the airway by dentists, ambulances, care/nursing homes, first responders, EMS and hospitals. A majority of these airway clearance devices/suction devices provide continuous suction and provide a greater amount of suction  than what LifeVac produces. Below is a small snippet of just a handful of these devices:
Suction is a proven and safe method of clearing an airway obstruction as you can see from the above images, if you go to your local EMS department you will see at least one of these devices within their vehicles and in their hospitals. LifeVac has more data proving safety and efficacy than any of the above suction devices combined. LifeVac is simply a non-invasive version that lay people can use that doesn't generate continuous suction.
We continue to gather more and more data every day to achieve these gold standards needed to be included into BLS choking protocol. After all when abdominal thrusts, back blows and even CPR fails what else can you do apart from watch a bystander or loved one pass away.
Being a new device for laypeople that has set the standard for all to follow, we come across scrutiny at times, by people who do not understand how medical devices work, or luckily have not lost a loved one to choking. But we always try to educate these people so they understand the importance of raising awareness of choking, the difference between advisory bodies and governing bodies  and the difference in the level of evidence needed for both.
We are proud to have helped save over 280 lives in a choking emergency around the world when BLS choking protocol has failed, ranging in age of a few months old to 97 years of age. Watch the video below of LifeVac saving a 10 month old baby boy in a choking emergency when all else failed.