As many of our supporters and clients know, LifeVac's main goal is to have non-invasive hand held suction devices included into BLS protocol to raise the current 70% effectiveness to as close to a 100% effective as possible.
At LifeVac we know data merely on lives saved isn't sufficient to prove how effective or safe to use an Airway Clearance Device (ACD) is.
When we very first started with our concept, bodies such as the UKRC, ERC and ILCOR had not heard of ACD's or "anti choking devices".
We exhibited at the 2018 ERC congress in Bologna, where we were fortunate enough to demonstrate LifeVac to many members of different resuscitation councils who were very interest in this "new idea".
In 2019 the ERC congress was held in Ljubljana, the capital of Slovenia. Here the available evidence at that time for ACD's was presented by Dr Jerry Nolan.
Even though two ACD's (LifeVac and Dechoker ) had been on the market for 4 years, the only ACD with any scientific evidence to be presented was LifeVac.
See below pictures from Dr Jerry Nolans presentation on choking – FBAO.
Since 2019 LifeVac has saved over a 100 lives from choking to death and dozens of usages where LifeVac has played a crucial part in a choking emergency.
Since 2019 we also have 2 more unbiased, peer-reviewed, evidence based research and published papers on LifeVacs usages on children and effectiveness. Pediatrics & Therapeutics Journal , Resuscitation ERC Journal – Open access.
These articles are yet to be reviewed by ILCOR the committee who make the first aid guidelines. The latest and only statement for the use of airway clearance devices from ILCOR and the ERC are two articles where they only state the following guidance:

The link to the ERC draft guidelines where you can see the above is reachable by clicking here
The other article is from the AHA (American Heart Association) see below text picture: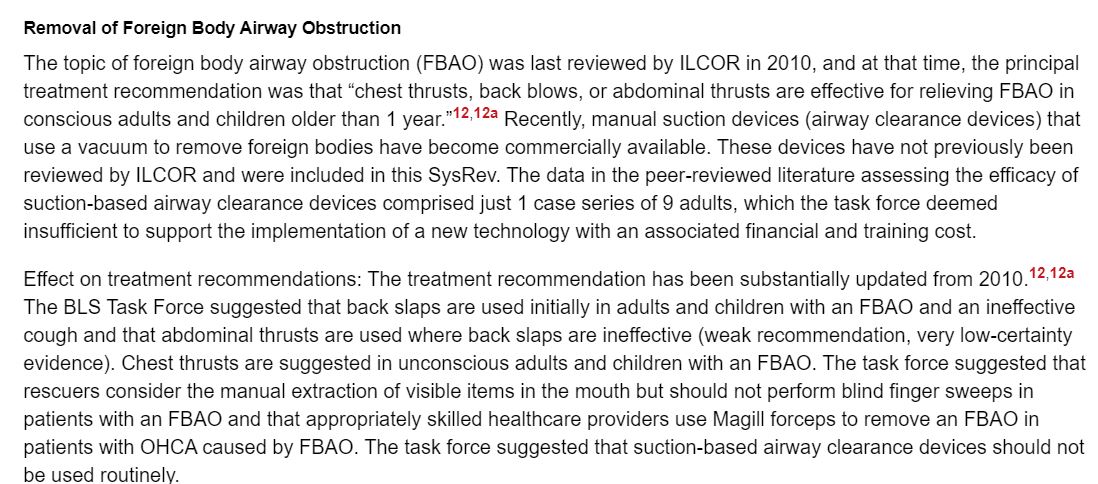 The above text picture can be found by clicking here.
As you can see the use of blind finger sweeps (inserting something in the oral cavity blindly) is still not recommended due to complications such as pushing the obstruction further back.
In no way have any respectable body released such a statement that has been shown below:

The above seems to be a fabricated statement made to "promote" a possible first piece of evidence.
At LifeVac as a whole we welcome any new evidence supporting the use of any airway clearance device, as this supports the use of ACDs as a group, just like defibrillators (AED).
At this current moment in time there is another independent study underway. Researching 70+ of LifeVacs usages for peer review and publication. We cannot share when or what journal as we have little to no input, but we look forward to sharing this once it has been completed and published.
We continue to set the bar for airway clearance devices and lead the way in unbiased, peer-reviewed, evidence based research and published papers (scientific evidence) that do not only prove lives saved but the efficacy behind LifeVac.