Is There an "Off brand" Version of LifeVac?
What YOU NEED to Know Before it's too Late
The simple answer is NO, there isn't. There is only LifeVac.
Since 2012, when the very first patented LifeVac device was developed. We made it our mission to set the bar for all airway clearance devices/choking rescue devices to follow.
Having now saved over 993 lives in a choking emergency. As well as receiving the backing of multiple peer reviewed medical publications and independent studies, we set the bar very high for others to follow.
Each component of a LifeVac device is quality checked before assembly. Materials that LifeVac are made from have been durability tested, heat/cold tested and specifically chosen to maintain these high standards. To ensure every device will work as described in hot/cold environments and the device will not break if dropped. Every LifeVac device that leaves our manufacturing plant is tested to ensure every device produces the perfect amount of suction and no air can be forced through the mask when applied. Every device is traceable via it's unique serial number.
LifeVac is a medical device registered and regulated by governing bodies in all countries sold. LifeVac is CE marked and also receives regulatory body inspections. Being a regulated medical device, LifeVac also has public liability insurance.
LifeVac is the only non-invasive regulated airway clearance device/anti choking medical device. Regulated by many health authorities around the world and CE marked. Meeting safety, quality and compliance standards. Every LifeVac medical device that leaves our ISO 13485 accredited manufacturing warehouse is tested during suction, durability and safety.
Don't trust something that "looks like" a LifeVac medical device in a choking emergency when seconds count, especially from sites such as Amazon, Ebay, Aliexpress, Fruugo or other "standalone" websites, as these platforms do not check any local or global legal/regulatory requirements for medical devices.
These illegal Chinese counterfeits use LifeVacss intellectual property rights and trademarked name to trick people.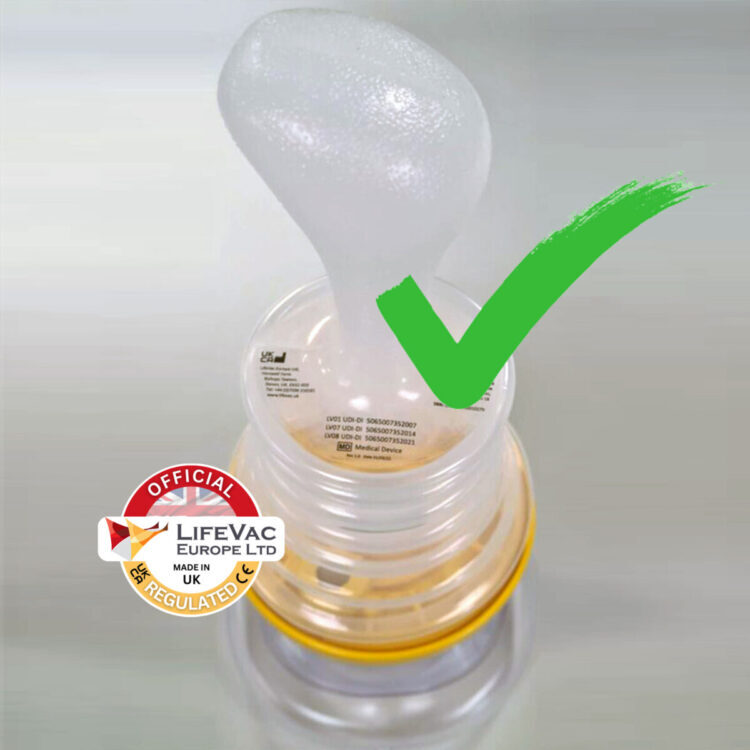 We also replace ALL used LifeVac devices free of charge, when reported back to us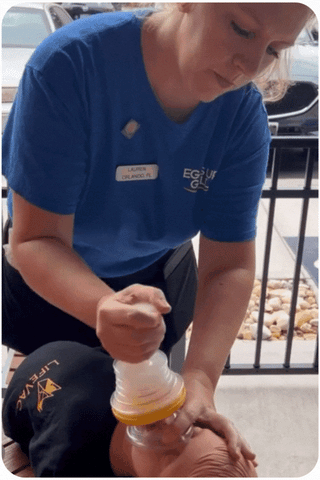 This past year, we have noticed an influx of counterfeit devices made in China available on platforms such as Amazon, Aliexpress, Ebay and Alibaba to name just a few. We have also come across independent drop shipping websites that run social media ads.
These devices that claim to be "choking rescue devices, anti choking devices, choking suction devices, medical devices", they have tried very hard to "look like" a LifeVac device. Some listings, the sellers even state our trademarked name "LifeVac®" and use our logos, images and lives saved videos. But to put it simply, they are NOT LifeVac and the device they are selling is  NOT a regulated LifeVac device nor a medical device.
What do these counterfeit devices from China look like? See some of the product images below:
Why Are These Chinese Counterfeit Devices Dangerous & How Are They Sold So Cheaply?
Well there are MANY reasons as to why these Chinese counterfeit devices are dangerous, cheap and also illegal, here are just a few reasons:
These counterfeit devices are not registered/regulated medical devices, they are not CE marked. They are not regulated by any countries regulatory body. This means they do not meet any safety requirements and are illegally being sold via online platforms and drop shipping websites to the general public.
None of these counterfeit devices have any quality checks carried out on them, there is no proof or accountability of what suction (if any) is generated when applied.
Many of these counterfeit devices are simply glued together, so are not durable or strong.
They are made of different and cheaper materials than a regulated LifeVac medical device. This means there is no evidence they will perform in hot or cold environments. For example if you leave one in your car in hot weather, it may melt. If you leave one in a cold car, the bellows may be too stiff to depress.
These devices are being assembled in unsanitary factories in China, sadly using cheap labor. Who is to say a valve or o'ring is checked once assembled?

All of the counterfeit devices LifeVac has tested, have broken during our quality testing or do not generate enough suction to relieve an obstruction in the airway. Some do not even have a one-way safety valve, this means they push air down when applied. which is fatal.
When one of these counterfeit devices are used and fails to remove an airway obstruction due to not creating enough suction, or breaking or it pushing the obstruction further down. The casualty will then sadly die, who will you report the incident to? You cannot report it to a regulatory body such as the FDA, MHRA, HPFB. TGA, MOH, SAHPRA or CE etc. As these dangerous counterfeit devices are not regulated or registered with any regulatory body. What insurance will pay for the damages caused? Many of these counterfeits are now using photocopies of LifeVac USA instruction sheets, which means there is no traceability and the first port of call when another counterfeit fails will be LifeVac LLC. LifeVac LLC and LifeVac Europe have full traceability of every manufactured device.
These illegal counterfeit devices have not saved any lives and do not have ANY testing or peer reviewed medical publications to prove how safe or effective they are.
Being that they are not a regulated medical device, they have no quality procedures, no public liability insurances and they have no licensing to name just a few examples.
We are now starting to see "standalone websites" and affiliate websites in the UK, drop-shipping these illegal devices from China to innocent people in the UK, every site and company has and will be reported to the UK regulatory bodies (MHRA and ASA) for swift legal action.
Do not purchase a cheap device that is meant to be used in a life or death situation without carrying out your own due-diligence.  
How do I Know if I Have an Actual LifeVac Device?
This is the easy part, you can tell by looking at the bottom disc of a LifeVac device. Every LifeVac device manufactured in the USA will have "LifeVac – Made in the USA" stamped on the bottom. Every LifeVac device manufactured in the UK for the UK/EMEA will simply have "LifeVac" stamped on the bottom. All LifeVac devices sold in the UK and EMEA will have CE and UKCA markings as shown in the first picture above. All LifeVac literature will have LifeVac contact details and regulatory details printed inside. All LifeVac devices come in serialized packaging that is unique to your device. This is for device traceability. As counterfeits are now trying to copy "the easy part" such as LifeVac packaging, stamping LifeVac into their cheap discs and also photocopying LifeVac instructions, there are still MANY ways we can easily identify if you have a genuine regulated LifeVac® medical device. To find out if you have a genuine device please email us [email protected] or call us on +44(0)1271316044. If you are unsure please do NOT use your device until you are certain as a life isn't worth risking.
These are just a few examples of how you can tell if you have a genuine LifeVac device, that can actually save a loved ones life in a choking emergency.
There are many more way's we can tell if you have a genuine LifeVac medical device. We cannot share this information publicly, otherwise Chinese counterfeits will also try to copy these details. If you are unsure if you can a genuine regulated LifeVac medical device, please contact us directly via our website or call us on +44 (0) 1271316044.
What Are LifeVac Doing to Stop This?
As you can imagine, setting the bar also comes with responsibility. LifeVac are doing many things such as taking legal action for patent infringement, intellectual property and design right infringement. Contacting all regulatory bodies and selling platforms. We take saving lives and safety seriously.
What Can I Do To Help?
If you see a reseller within your country illegally selling these dangerous counterfeit devices, you can also report them to your countries regulatory body (equivalent to the FDA and MHRA etc). If you see a reseller selling to your country, you can also report them to the platform they are selling on.